Hey....that's me!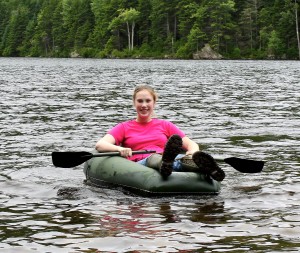 Major and Home University: Environmental Science, Water Resources concentration at the University of Vermont
Research Mentor: Dr. Charley Driscoll, Syracuse University
Why/how did you get involved with the program?
Well let's see...I definitely wanted to get involved with some sort of internship program this summer, because I wanted to get more experience conducting research before I started applying to graduate schools this fall. In addition to that, I had heard about the research here at Hubbard Brook for years, as both my former high school biology and college ecology professors had worked here. I was really excited when I found out that Hubbard Brook was having an REU program, and even more excited when I was accepted.
What is your project?
I am looking to see if the Clean Air Act has worked, by evaluating the acidity of six ponds in the White Mountains. I am collecting water samples, and then having them analyzed at Syracuse University. I will then compare my data to data from the 1980's and 1990's to see if any changes have occurred. Additionally, I am comparing the acidity of ponds to their corresponding inlets and outlets, to see if there are any significant differences.
Why is it important?
The United States has put a lot of money and effort into controlling acid deposition (acid rain). We have decreased the emissions coming out of factories, which in theory should decrease the amount of sulfur-based acid deposition. Meanwhile, our car emissions have increased, increasing the amount of nitrogen-based acid deposition. I am looking to see if these actions have changed the acidity in ponds throughout Central New Hampshire.
Or more simply put, was the Clean Air Act worth it? Are we getting any results?
And finally....what is your favorite piece of gear?
My backpack! Besides this summer, we've been to Canada, Sweden, Norway, Ireland, and Britain together!